INTRODUCTION
The Infant/Early Childhood Mental Health Consultation (IECMHC) Consultation Program is a child-specific consultative model which addresses the social-emotional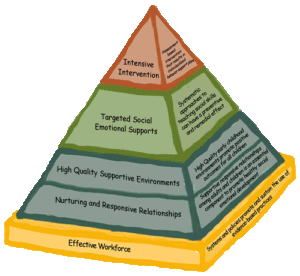 development of young children within their early care and education (ECE) program. Services are provided at the request of the director or teacher and with the permission of the child's parent or guardian. The program includes an array of customized services that are based on the Pyramid Model for Promoting the Social Emotional Competence of Young Children (Center on the Social-Emotional Foundations for Early Learning).
The Pyramid Model is designed to help organize a variety of evidence-based approaches, activities, and practices focused on young children's healthy social and emotional development. Consultants work directly with the child's teachers and parents to increase their capacity to understand and address the child's developmental needs. Research supports Infant/Early Childhood Mental Health Consultation (IECMHC) as an effective approach to promoting social-emotional competence in young children. Children in classrooms that received consultation showed greater improvement in social-emotional development and decreased problem behaviors than children in comparison groups that received no consultation. There is also evidence that as a result of consultation teachers felt more competent and effective and that they were more attuned to the needs of children. Finally, programs were found to benefit from Infant/Early Childhood Mental Health Consultation (IECMHC) by having lower staff turnover and fewer children expelled for behavior.
Infant/Early Childhood Mental Health Consultation (IECMHC) is designed to assist early care and education programs in meeting the social and emotional needs of children who exhibit challenging behaviors in the classroom.
Project Goals:
Reduce the number of children expelled from early care and education settings due to behavioral issues
Increase understanding of social and emotional development and its impact on educational success
Link and bridge systems and services on behalf of a child, family and program
What is Early Childhood Mental Health?
Early childhood mental health is synonymous with healthy social and emotional development.  It is developing capacity of the child from birth to age 5 to:
form close and secure inter-personal relationships
experience, regulate and express emotions; and
explore the environment and learn in the context of family, community, and cultural expectations from young children.
(Adapted from ZERO TO THREE: National Center for Infants, Toddlers & Families)
A child may benefit from Infant/Early Childhood Mental Health Consultation (IECMHC) services if he or she:
If his/her behavior is concerning to or difficult for caregivers.
displays very little emotion
shows no interest in sights, sounds or touch
rejects or avoids being touched or held
is unusually difficult to soothe or console
is unable to comfort or calm self
is extremely fearful or on-guard
does not turn to familiar adults for comfort
Infant/Early Childhood Mental Health Consultation (IECMHC) provides on-site support including observation, social and emotional and/or development screening, development of an individualized action plan, referral to additional community supports, and facility-wide professional development. These services are available to:
To all early learning programs participating in Keystone STARS
For children age birth to five
Free of charge to the early learning program
How can I access services?
There's a new way to request ECMH Services. The PA Key has streamlined the process for Keystone STARS programs to request Infant/Early Childhood Mental Health Consultation (IECMHC) beginning July 1, 2019.  Programs and parents can contact the program leadership directly at PAIECMH@pakeys.org with questions, concerns and request for service forms.  Requests for service forms can also be faxed to (717) 213-3749.
For more information on Infant/Early Childhood Mental Health:
Learn more about Ages and Stages Questionnaire. The tool is quick and easy to administer and score.  The ASQ was designed to be completed by parents.  Also this system is being used across various state and county programs, such as Early Care and Education, Early Head Start and Head Start, Early Intervention for developmental monitoring and OCYF.
Learn more about the Infant-Toddler Temperament Tool. The Infant Toddler Temperament Tool (IT3) was developed for the Center for Early Childhood Mental Health Consultation, an Innovation and Support Project funded by the Office of Head Start.